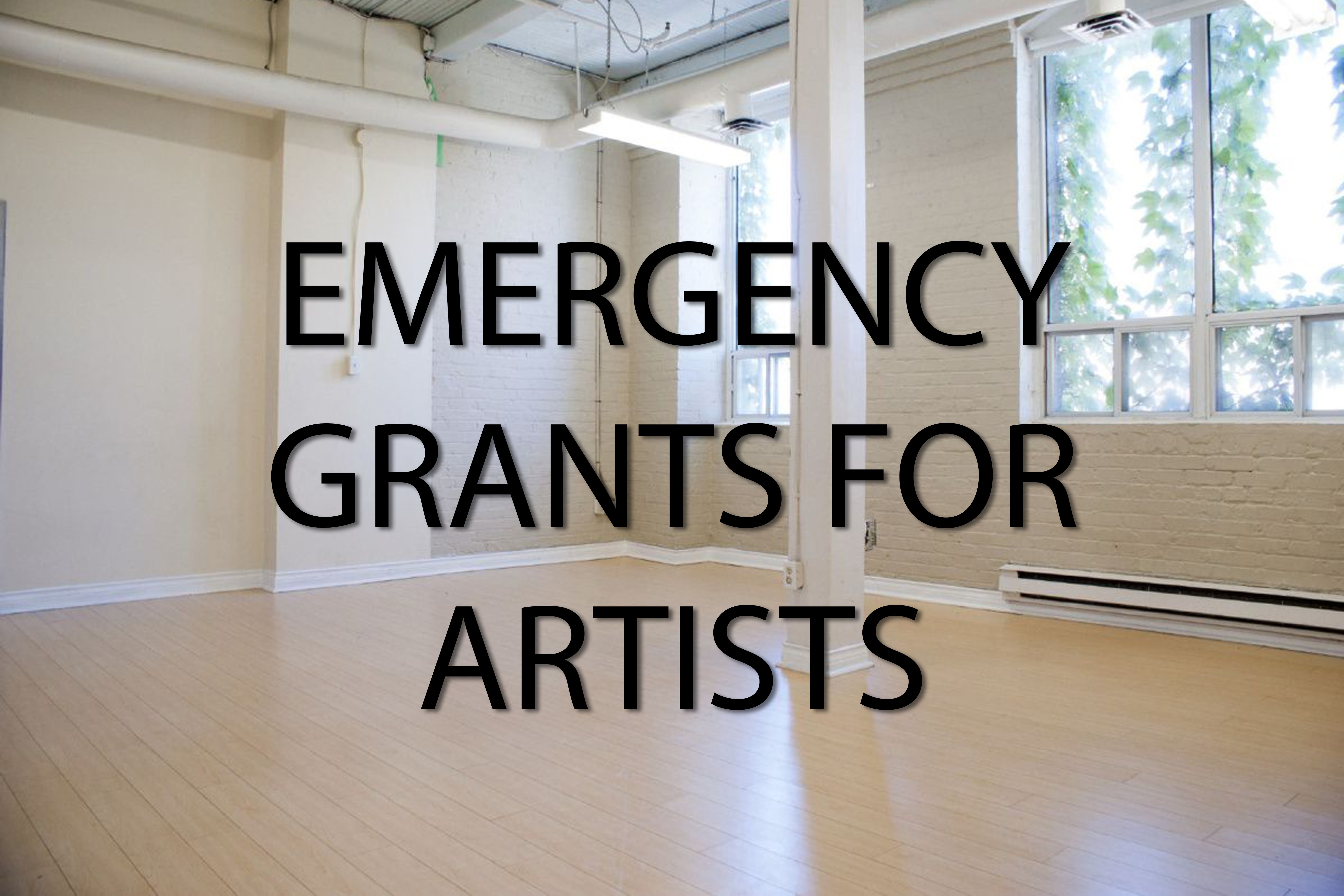 During these difficult times we understand the need for access to resources and funding for artists and creatives. We have assembled a list of resources for artists and people working in the arts on this post. While this is certainly not a complete list we hope it serves as a jumping off point for any artists who may find themselves in need.
LIFTS - LIFTS is an artist grant and acquisition award sponsored by Paige West and the West Collection in response to COVID-19. The initiative is designed to offer assistance during this very challenging time. Each week for ten weeks, Paige West will announce on the West Collection website (www.westcollection.org) one artist who will receive $5,000 in the form of a grant to use how they need, and an additional $5,000 for the purchase of their work(s).
Artists Fellowship - The Artists' Fellowship, Inc. is a 501 (c) 3 charitable foundation that financially assists professional visual artists and their families in times of emergency, disability or bereavement. The Artists' Fellowship's Board of Trustees and Officers serve as volunteers in service to our community of artists. Assistance is given without expectation of repayment. One does not need to be a member of the Fellowship to receive assistance nor does membership in the Artists' Fellowship entitle one to assistance from the foundation.
Artist Relief - Artist Relief will distribute $5,000 grants to artists facing dire financial emergencies due to COVID-19; serve as an ongoing informational resource; and co-launch the COVID-19 Impact Survey for Artists and Creative Workers, designed by Americans for the Arts, to better identify and address the needs of artists.
Foundation of Contemporary Arts - In light of the impact of the COVID-19 pandemic on the artist community, the Foundation for Contemporary Arts is creating a temporary fund to meet the needs of experimental artists who have been impacted by the economic fallout from postponed or canceled performances and exhibitions. The Foundation will disburse one-time $1,500 grants to artists who have had performances or exhibitions canceled or postponed because of the pandemic.
Seattle Foundation - Housed at Seattle Foundation, the Fund makes grants to nonprofits that are working on the frontlines to provide our region's most vulnerable communities with emergency assistance, such as financial support, healthcare, and childcare.
Arts Coucil of the Southern Finger Lakes - Emergency Arts Relief Grants provide financial support to creative individuals and community groups who have experienced lost income from the postponement and/or cancellation of specific, scheduled opportunities or programs due to the outbreak of COVID-19. This grant program is administered by The ARTS Council of the Southern Finger Lakes with funding from the Community Foundation of Elmira-Corning and the Finger Lakes.

Max's Kansas City - The max's kansas city project provides emergency funding & resources to professionals in the creative arts. Individuals who have made their living through their art form either professionally or personally and demonstrate a financial need for medical aid, legal aid or housing.
Wherewithall Grants (DC) - Wherewithal Recovery Grants will be awarded on a bi-weekly basis to DC-area artists whose income or opportunities have been negatively impacted by the COVID-19 crisis. These grants are intended to support people with immediate financial needs (rent, food, childcare, healthcare, etc.).
Vermont Arts Council - The Vermont Rapid Response Artist Relief provides grants up to $500 to artists who have lost income due to the loss of a job or cancellation of a specific, scheduled gig or opportunity (e.g., commissions, performances, contracts, workshops, classes, etc.) because of COVID-19.
Women's Center for Creative Work - In light of the rapidly escalating impacts of COVID-19 on the health and wellbeing of our Southern California creative community, Women's Center for Creative Work has quickly re-worked their 2020 Emergency Health Grant for Artists to better respond to the urgent needs arising.
Worcester Creative Relief Fund - The Worcester Creative Relief Fund will award grants in the amount of $500 to artists who live or work in Worcester and have had their creative practices and incomes adversely impacted by COVID-19. The Fund is designed to support Worcester artists of all types (visual, performing, design, etc.) who have been financially impacted by event/gig cancellations, the inability to exhibit their work/book shows, and/or have lost revenue from their day jobs being eliminated due to COVID-19.
SF Arts & Artists Relief Fund - San Francisco Arts Commission (SFAC) and Grants for the Arts (GFTA) have launched an emergency relief fund—the San Francisco Arts & Artists Relief Fund—to mitigate COVID-19 related financial losses that artists and small to mid-size arts and culture organizations have suffered. San Francisco's arts and culture ecosystem is fragile, vital, and at risk—it's necessary we respond immediately. The San Francisco Arts & Artists Relief Fund will initially provide $1.5 million in financial support to the individuals and organizations that anchor our vulnerable and vitally important cultural communities.
Bay Area Arts Worker Relief Fund - The region's arts service organizations are uniting to establish emergency funds to assist arts workers through this crisis. The Bay Area Arts Worker Relief Funds embrace two sources of support: one for workers in the performing and musical arts and one for workers in visual, literary, media, film and video arts.
Cape Cod Arts Relief Fund - The AFCC's Cape Cod Arts Relief Fund will provide the first $10,000 to meet what we know is a much greater need. Focused on lost income, the Cape Cod Arts Relief Fund will provide one-time relief in the form of grants up to $500 to artists who live, work, create, and/or perform on Cape Cod.
Rhode Island Artist Relief Fund - With events of all types being cancelled and art spaces of all kinds being closed to reduce spread of COVID-19, many people who make income partially or fully through gigs and freelance work are facing immediate financial precarity. The Rhode Island Artist Relief Fund will award grants of up to $1,000 to help artists, teaching artists, arts administrators and other freelance arts and culture workers stay housed, fed, and safe in this time.
Massachusetts Cultural Council - Through Mass Cultural Council's COVID-19 Relief Fund for Individuals, grants of $1,000 are available to individuals who are independent contractors, freelancers, gig workers, and self-employed or sole proprietors who have lost income derived from their work as individual artists and independent teaching artists/humanists/scientists as a direct result of COVID-19 related cancellations and closures in Massachusetts.​
ADDITIONAL RESOURCE LISTS
Alliance of Artist Communities
National Endowment for the Arts

April 11, 2020